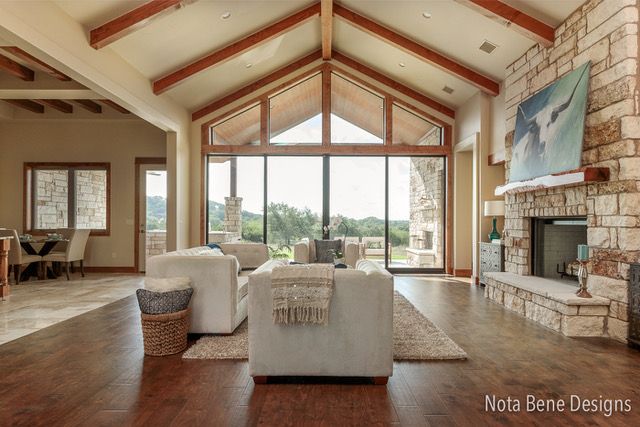 The importance of staging your house before listing
Noleen Bester - NB Designs Premier Staging
The goal of staging is to have prospective buyers walk into a house and immediately fall in love and want to live there. We want buyers to ooh and aah, and make a great offer!
About eight years ago, staging was in its infancy in Dripping Springs. Prior to listing, only the most progressive Realtors were calling in a stager. Fast-forward to 2019 and if you're not staging your house, you're not keeping up with the competition.
According to a study by the National Association of Realtors, 62% of homebuyers are under the age of 52, with the millennial age group being the majority. These younger buyers are very design savvy when it comes to trends and styles. Staging has become a MUST; in order to maximize the seller's equity in the home, and of course, to compete with new build homes that are popping up in the area.
TV Programs like The Property Brothers on HGTV have defined what buyers expect to see when looking at homes to purchase. The question then becomes, how do you take an older house and turn it into a home that will appeal to the younger buyer?
Here are some of our tips for preparing your house for maximum interest and appeal:
Repairs and updates - Take care of any maintenance items you've been putting off. Deferred maintenance suggests that you haven't taken care of the home and buyers will assume that the systems in the house haven't been maintained either. If your home is dated, be prepared to make some changes prior to selling.
Paint - Fresh paint in a neutral color is the best investment you can make. Your stager can assist you in choosing a neutral paint that accentuates the fixtures and architectural features in the home. *Tip - not every house is a 'gray' house. The trend right now is warmer whites such as: Sherwin Williams Alabaster, Pure white or Natural Choice
Clean - A thorough, professional cleaning (and continued upkeep) is essential. Research shows that odors and stains are immediately offensive. People get used to the smells in their own homes (it's called 'nose blind') and often don't know if their home has an odor. Your stager can give you an honest opinion if she detects an odor. Clean windows make the home seem lighter and more airy, and show pride of ownership. Landscaping is important for curb appeal. Keep landscaping on a maintenance schedule in order to keep the home in show-ready condition.
De-clutter - Stagers recommend that sellers remove their off-season clothing, dated magazines, excess books, refrigerator magnets, etc. Our suggestion is also to store all items that are smaller than a basketball. You can't identify what these items are in an MLS photo and only serve to look like clutter in your photos.
DO NOT DEPERSONALIZE - Stagers prefer that the sellers to leave their personal items in place until the stager has been through the house to make suggestions on what to leave and what to store away. Time and time again, stagers will get to a home, and the seller has packed away all of the decorative items, leaving the home with only there minimum. We want buyers to feel an emotional connection with the home, so, keep items such as large coffee table books, candlesticks, vases, throw pillows and art.
A few small purchases will make the home feel updated, and the decorating intentional. These are the items we frequently recommend:
White orchid or white tulips as a centerpiece for the dining room table and in the master bathroom
New white towels and hand towels for the bathrooms,
White linen shower curtains
A pair of matching, on-trend lamps for the master bedroom
Plastic shoebox/tote for toiletry items that will be placed in bathroom cupboard after use each day
Pillar candles and candlesticks for mantlepiece
Fruit in a fruit bowl on breakfast room table or kitchen island
Fresh flowers for photographs
Updated accent pillows for living room and master bedroom
Additional indoor and outdoor plants
A new welcome mat.
Most of these decor items can be found at Home Goods, At Home or Target.
Finally, if the house is vacant, it is essential to stage with furniture and accessories. A vacant house feels like a project. A staged house feels like home. Statistics from realtor.com show that staged homes sell 88% quicker and for 20% more than unstaged homes.
To find out more about occupied staging consultations or vacant home staging, please visit our website www.nbdesigns.com.
Noleen Bester - NB Designs Premier Staging. Call (833) TO STAGE.
Noleen Bester
NB Designs Premier Staging
Luxury Staging Specialist
2018 TOP VACANT STAGER - HSRA SOUTHWEST REGION
RESA CENTRAL TEXAS CHAPTER PAST PRESIDENT (2016)
TREC Approved CE Instructor
(512) 659-7970