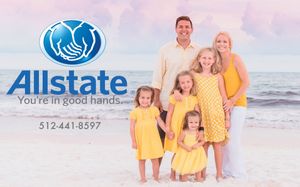 Allstate - Paul Guerrero
First and most importantly, I am a father of four beautiful girls; Sophie, Genevieve, Reese and Eden. My bride, Sarah and I have been married since 2006. In my business we strive everyday to treat the customers like family because next to God, family is most important to our agency. I am a third generation insurance agent. Allstate being two of those generations. My 20+ years of experience have equipped me to help you protect your family from more than car wrecks and home emergencies. My passion is being there to help provide stability during difficult times and unforeseen circumstances like loosing a loved one.
I'm proud to work with a company who's been serving satisfied customers for over 70 years. I can offer quality insurance that's affordable and provide easy access for you to contact me in person, over the phone, or through my Web site - wherever and whenever you need. Both Allstate and I know how important price and service are for a long-lasting relationship.
As a small business owner, I understand the importance of building a solid foundation for the future and developing long-lasting customer relationships. That's why I'm committed to offering you the same level of service I'd expect from my own business dealings. When you leave my office, I hope you'll feel confident, informed and satisfied in your choices. The way you should feel.
Phone
O: 512.441.8597
M: 512.541.0970