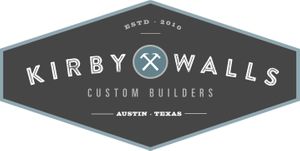 Kirby Walls Custom Builders
You'll be hard pressed to find a builder who loves the Texas Hill Country with it's rolling hills and gorgeous sunsets, more than Kirby Walls.
Kirby has been engaged in the Austin and Texas Hill Country construction and development business for over 13 years and loves giving back to this community he is proud to call home.
Whether building an innovative modern farmhouse that utilizes the latest in sustainable practices and technologies or a state-of-the-art commercial project with Scandinavian design (office4nine.com), KWCB brings a passion, depth and collaborative approach to everything they do. Each project is scrutinized for minimal energy use and environmentally friendly products, while maintaining aesthetics, cost effectiveness and functionality.
If you're looking for a builder that brings the same passion that you have for a project, in an area that just happens to have the best BBQ out there, give us a call.